Watercress – Todays Superfood
It's Time to Talk Superfoods:
Our favorite here at B&W Quality Growers is one that we're incredibly familiar with, but you may not be… watercress! As the leading growers of this delightful green, we're here to give you a brief, but powerful intro to this superfood. We think you'll be pleasantly surprised at all it has to offer. From nutrients to flavor to adaptability, it has it all!
A Nutritional Powerhouse
Watercress is one of the most nutrient-dense vegetables in the entire world. With more than 28 essential vitamins, minerals, and compounds, and naturally low-calorie, fat-free, and cholesterol free, you'd be hard-pressed to find better nutritional stats.
Just one cup of watercress contains 21% of the recommended daily value of Vitamin E and 24% of Vitamin C. Plus, you're getting a significant amount of Vitamins A, B, and K, and minerals such as calcium, phosphorus, and potassium. So, not only is watercress one of the most delicious greens available, but it also packs a healthy punch too.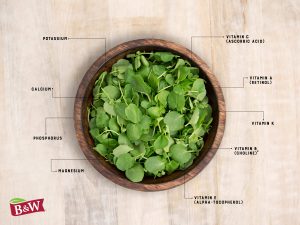 A Flavor Phenomenon
Watercress is world-renowned for its distinctive peppery flavor. Lending a mild peppery taste to any dish, you can easily incorporate it into many recipes. Most other greens have a muted flavor that is drowned out by its accompaniments, not watercress. Watercress stands on its own when it comes to taste, so it's best to use it in dishes where you celebrate its spice and peppery notes.
How Do I Eat Watercress?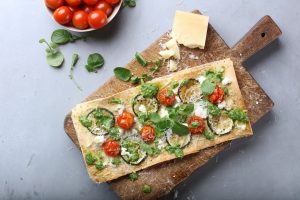 Now that we've got you excited about the year's hottest superfood, let us count the many ways in which you can enjoy it:
Add watercress to your usual salad greens mix
Blend it into a pesto just as you would basil
Use watercress in place of lettuce on your burgers and sandwiches
Mix it into soup near the end of cooking
Sauté it with some garlic and olive oil. It will cook up quicker than kale or collard greens because it's so tender.
Add watercress to your omelet
Toss a handful into your next smoothie
Purée it into a dip or zesty soup
Check out our full list of recipes for more ideas, and subscribe to our social media channels for the latest updates.
Now that we've introduced you to our favorite green, we hope you branch out and enjoy it too. It's not only flavorful, but also healthy and versatile.
Keep your eye out for the B&W brand. For over 150 years, we've specialized in watercress, with a singular focus on quality. Since 1870, our varieties have been selected for superior flavor and consistent appearance. Plus, our watercress is available to you year-round, thanks to our unique farming operations spanning over eight states.
Learn more about B&W today.
Instagram: bwqualitygrowers
Facebook: B&W Quality Growers
LinkedIn: B&W-Quality-Growers
Twitter: BWQualityGrwers
Pinterest: bwqualitygrowers