Go Green for the Holidays
Literally & Figuratively, B&W's Watercress Has You Covered:
Fun Ways to Incorporate Watercress into Your Holiday Menu
'Tis the season to add a little green to your menu, and what better way than with the subtle zest of watercress! Sure to be the star of the show, watercress' vivid green color and unique peppery flavor add a delicate crunch and slight spice to any holiday dish. Not only are these leaves gorgeous and flavorful, but they are nutrient-packed.
Thanks to us, B&W Quality Growers, watercress is available year-round, so the holidays are merely another time to add this versatile superfood to your menu. Perfect for salads or in soups, stir-fries, pastas, stews, and more, you'll have no problem finding a spot for watercress on your holiday table!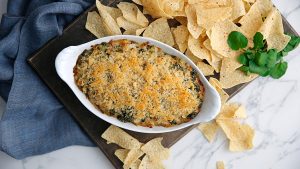 For the perfect holiday appetizer, mix up a luscious Watercress-Artichoke Dip.
Adding this peppery flavor will give your gathering the kickstart it needs.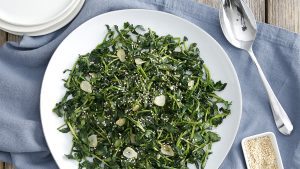 For a delightful green and festive side dish, stir-fry up some watercress with this healthy recipe.
This power-packed dish incorporates our watercress and ginger to give your immune system a significant boost.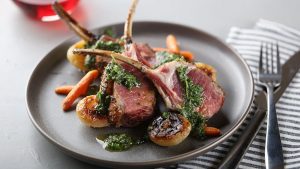 Then, guests will be wowed by our Grilled Lamb Chops with Watercress Chermoula recipe, perfect for an elegant holiday dinner.
You'll be the talk of the town with our fine dining recipes.
Figuratively "Go Green"
When You Support B&W, You're Supporting the Earth
Now that you've drooled over the many recipes that include our delicious watercress, let's dive into another meaning for "going green" and why, after 150 years, we've developed some of the most sustainable techniques. One of our methods is following the sun. Our farming operations span eight states, allowing us to grow products that are always in season and at the peak of freshness and flavor. In addition, our farm rotation program allows each field to rejuvenate naturally during its off-season. We also utilize sophisticated water regeneration and recirculation systems that limit runoff, saving valuable water resources. We call this "smart farming," which yields healthy products grown sustainably and naturally.
Our "smart farming" techniques have reduced chemical usage by over 50% in the past 10 years! Our unique way of growing is better for the environment and results in healthier plants and a more sustainable product, just like Mother Nature intended.
If you're looking for more delicious and nutritious ways to enjoy our baby leaves, check out all our recipes and be sure to follow us on social media.
Learn more about B&W today.
Instagram: bwqualitygrowers
Facebook: B&W Quality Growers
LinkedIn: B&W-Quality-Growers
Twitter: BWQualityGrwers
Pinterest: bwqualitygrowers